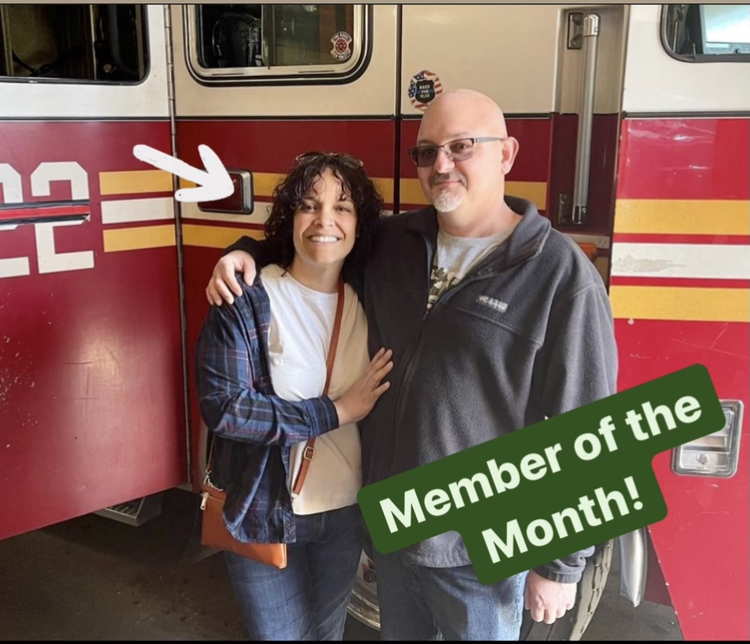 We're so proud of this lady! She has accomplished so much in just a few short months and there's no sign of stopping! As you'll read below, she was a little skeptical of Crossfit before joining. Fortunately she took the plunge and has been kicking butt ever since!
Why do you do CrossFit?
I Crossfit for my health, both mental and physical. When I first saw Alex my goals were standard- to build some muscle, increase endurance and all around feel better. I was physically and mentally not in a great place post pandemic and I remember contemplating a month to month membership because I didn't know if this was something I could really commit to (I had a lot of false preconceived notions about crossfit). I now can't picture my life without CrossFit. The rewards and positive effects to my overall health have been exponentially beyond my expectations.

What do you do for a living?
I am a Registered Nurse, I'm kinda a Jack of all trades within that profession but most of my background has been in post heart surgery ICU and hospice. I currently work in case management during the week and also work per diem on weekends occasionally. While nursing as a profession has been tough recently, the patients and families keep me going and make my job very rewarding. Nursing is never boring!
What is your best advice for someone just starting CrossFit?
My best advice for someone just starting Crossfit is twofold- show up and get out of your own head. I stalked the FreeWill Instagram page for a FULL YEAR before I finally got the courage to actually show up. I didn't think I was thin enough, fit enough or good enough. After finally mustering the courage to show up I very quickly realized I couldn't do a single push-up, sit up or burpee. I couldn't hang from the rig for more than a few seconds. I was short of breath after warm ups….in addition I had anxiety about others noticing the aforementioned. In my head cross fitters were lean and mean, nothing could be further from the truth. I wasn't expecting a fist bump from someone who just lifted three times as much weight as I just did or my coaches and peers congratulating me on a seemingly minuscule PR. This community welcomes all with open arms right now as you are, whatever that looks like- not when you reach some magical level of fitness. I now do many sit ups, burpees, push ups and kips. I can finish a Murph and have gas in the tank the rest of the day. Everyday I keep raising that bar and it feels great.
Show up, don't compare your physical abilities to others and accept the encouragement from your coaches and peers- they don't see your limitations they only see your grit , your potential and your progress. As coach Chris always says it's all about progression. My only regret is not starting sooner.

What is your favorite kind of workout or movement?
My favorite workout right now is Deadlifts because who doesn't love lifting heaving things??? I'm also currently in a toxic relationship with the rower
What's your favorite activity/hobby outside the gym?

A fun fact about me is I love shooting sports. I participate in some skeet and trap leagues throughout the year at a local club as well as sporting clays. I also do IDPA, 3 gun and some other competitions as they pop up. I love to cook, hike and spend time with my family as well