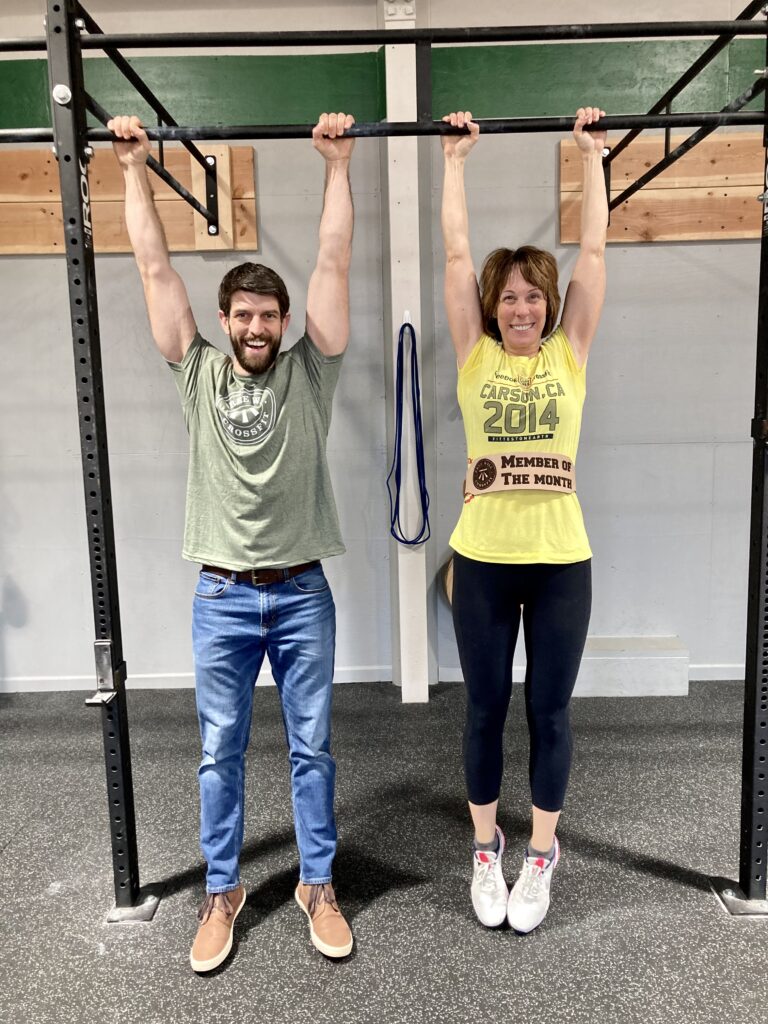 This month isn't only exciting because we get to recognize another one of our incredible athletes, but check out the sweet new Member of the Month belt!
We are so happy to recognize Betsy as our December Member of the Month! If you're in need of a mood booster, just take a class with this lady. Problem solved! Betsy has been with us for less than a year, but has already made an impact on our members and coaches. A little known fact is that Betsy has been doing CrossFit for almost 10 years, which is longer than some of our coaches! Lucky for us, she was happy to give us some of the wisdom she's earned over the years.
Why do you do CrossFit?
Every CrossFit workout makes me feel like I'm one step closer to getting in the best shape of my life. There is always something to learn, and the variety of each workout keeps me coming back. Most importantly, I love working out with a community of people! Receiving support and feedback from coaches and others in the gym is empowering. Since the workouts are challenging physically and mentally, I'm constantly motivated to push myself.
What do you do for a living?
I am a newly retired teacher (YEAH!) which has been a huge adjustment and work in progress. I should be completing DIY projects. However, I am currently enjoying the simple things I could not do while teaching such as finishing a morning cup of coffee and actually chewing my lunch food. The biggest change is I have more time than I've had in years, and my day is not based around increments of 45 minutes. Although I miss relationships with students, it's extremely exciting to chase passions that have been on the back burner for years.
What is your best advice for someone just starting CrossFit?
Listen to the instructions the coaches are giving you. You can hurt yourself if you don't. Be patient with yourself and BELIEVE that you will improve over time if you show up consistently. CrossFit is tough and the skills take time to acquire. Comparing yourself to others and constantly thinking about what you can't do is self-defeating. Choose what you do best and make it better. Then, identify one thing you want to improve, and practice it regularly. Lastly, you don't always have to be the first one finished to see gains. You have to keep the ego in check.
What is your favorite kind of workout or movement?
I love the long slow burn workouts you have to keep pushing through. A great 'chipper' wod pushes you mentally and can make you feel like a rock star when you finish! Sometimes you get to drag a partner through a chipper which might lead to lots of comic relief! Laughing during a workout = a win.
What's your favorite activity/hobby outside the gym?
I love the simple pleasures in life. One of my favorite things to do is hang out with friends/genuine people. I really enjoy mixing up some of my signature 'RX cocktails', listening to music, playing darts, and of course – LAUGHING! Beyond that I look forward to lake vacations in Maine with my husband, finding the best food that's easy to make, suspenseful movies and books, and the journey of not killing houseplants and flowers. I'm not happy if I'm not learning, so I'm up for trying new things. Life is too short. You have to get after it!